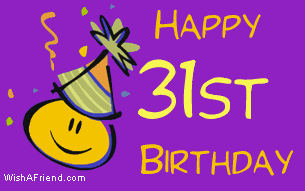 Guess what??? I turn 31 today! Yeah!! Happy Birthday to ME! But I share this birthday with my Twin Lori so it is only right that I say Happy Birthday to her too! So, my gift to myself this year is... DA-DA-DA-DA.... I just signed up to participate in my first TRIATHLON!!! Yeah...ummmm... no! That was
not
a TYPO. You read it correctly!
T-R-I-A-T-H-L-O-N!
I am super excited for this. It is April 19th, which is the weekend after my sisters wedding in Boston! I have always wanted to participate in one of these but always thought I would do a half or full marathon before attempting this. But it actually doesn't seem so bad. This year's the event will take place in Chandler on the Chandler High School Campus. The swim will take place in a 50 meter pool. The event will involve a swim of 8 laps, 8 miles biking and a 2.25 mile run that finishes Olympics style on the Chandler High School track. My family or friends will be able to cheer me on and watch the whole way!
So why this Triathlon you ask? Well basically I figure I spent the first half of my twenties lending my body to the right of passage I like to refer to as
excessive drinking and partying!
The second half of my Twenties I lent my body to childbearing. Now that I am 31 and done with both of these, I figure it is time I lent my body to fitness and health and make an investment in ME! Also see the logo below... The Triathlon benefits Susan G Komen for The Cure to raise money for Breast Cancer, which as everyone knows by now, is an important cause for me (and one that is prompting me to walk in my FOURTH three day walk next Nov.)
Jimmy and I got a sitter on Sat night and went to dinner at The Keg Steakhouse. We then went to a "new" Irish bar in Downtown Chandler called Murphy's Law. They have a really big and cool bar in there! Today I relaxed and spent the day with the kids and Jimmy and then we had birthday cake. Ella insisted I use an Elmo candle and she wanted to blow it out with me! =) She waited all day (very patiently) for this cake! We decorated it half for her and half for me! Here are a couple photos:
My hubby also gave me my new laptop today! Yeah! www.jillcarilli.blogspot.com