This week we knew would be a little hectic cause Daddy was leaving to go on a business trip for most of it. Some highlights of our week are included here.
Monday when Ella got home from school I had a special treat planned for her and Ryen. We made cupcakes with this mini cupcake child's bake set I got them in the Barnes and Noble toy area a few weeks back. Ella was so surprised and excited. They helped with every step of the way. But wouldn't stop stealing little finger fuls of batter from the cupcake foils! :)
100 mini cupcakes later I was exhausted and threw away the rest of the batter! I don't know where my photos went that I took of the finished result. But I frosted them and Ella doused them in different colored sprinkles. Then she delivered some next door to her BFF Rachel's house and next door on the other side to her friend Colin. She was shy but very giggly and proud of her cupcakes.
On Tuesday morning we drove Daddy to the airport for his business trip to Iowa. As the girls yelled "Bye Daddy" we wished him a safe trip and headed to breakfast. I ended up at- you guessed it... CHOMPIES (this made my third time in one week I realized later. OOPS.)
We had a yummy breakfast and did some coloring.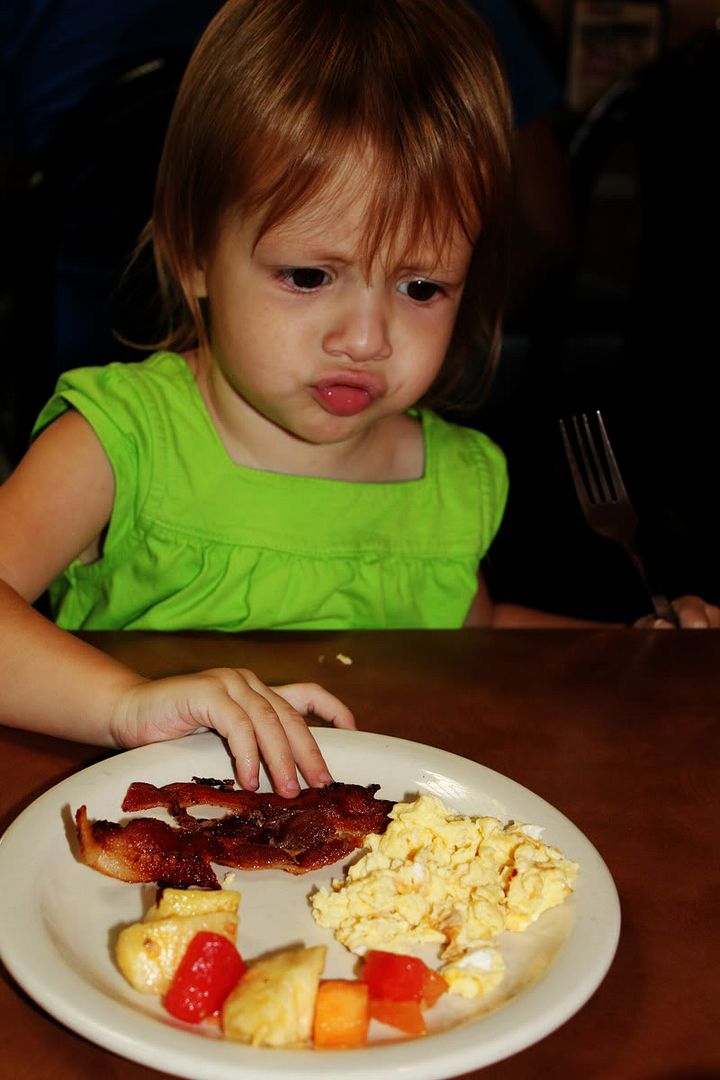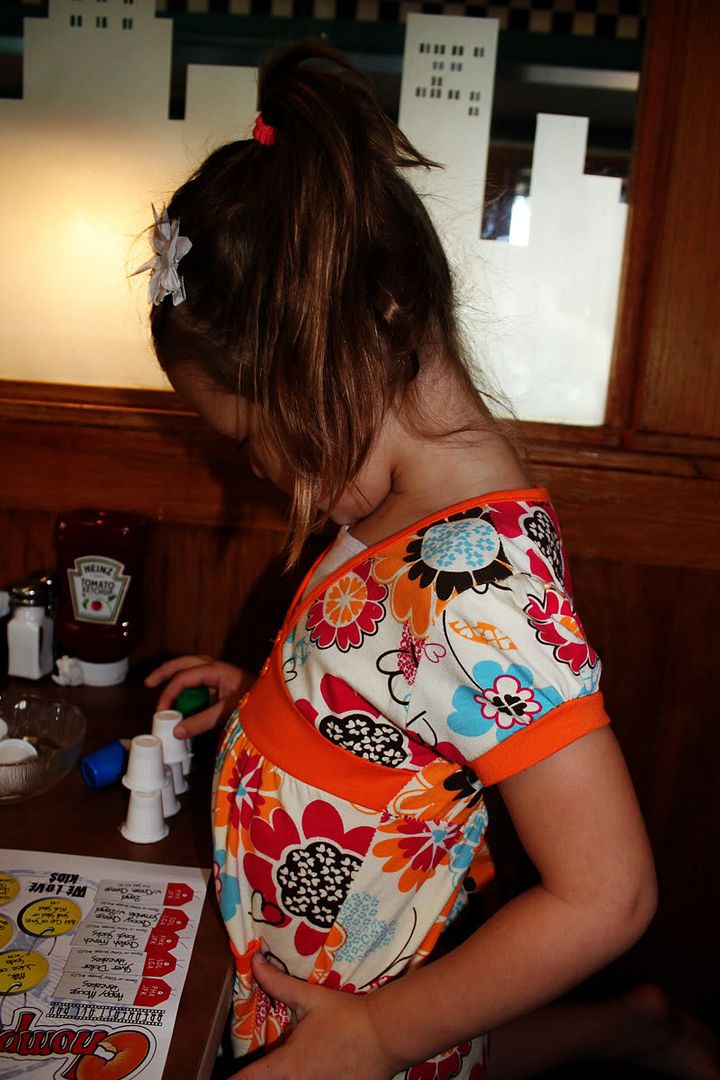 And then me and my nemesis, the Elmo
Cupcake
, met again - but this time I did not let him beat me.
Oh yeah... I would say I won THIS BATTLE! ha ha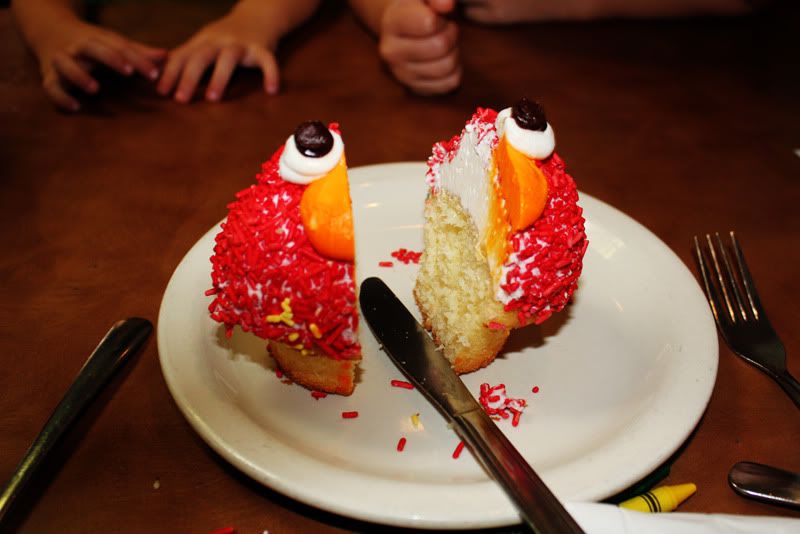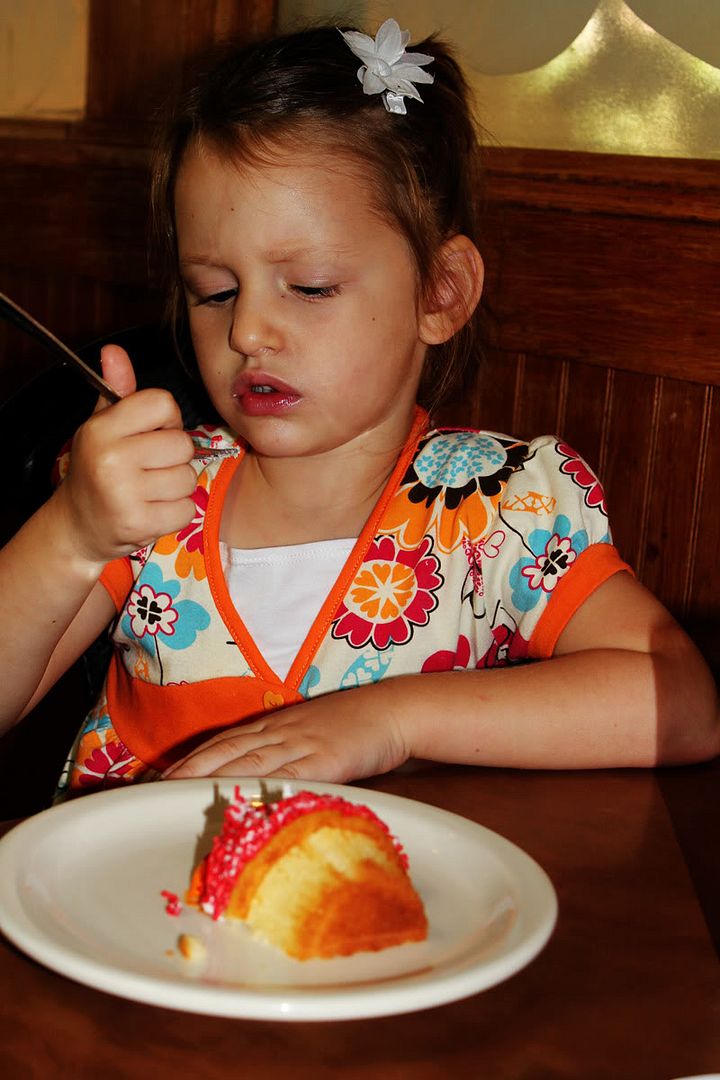 After breakfast I took the Girls to Ikea to play and have a tea party. They love Ikea.
Here is where things got crazy! I decided while Jimmy was gone to undertake TWO big projects for the house. One was finally decorate my Girls/guest bathroom. The other was to buy and refinish a round table for my kitchen. I was up late, working like crazy and trying to keep the girls from blabbing to Daddy about it during their phone calls with him. Here are the results of both projects...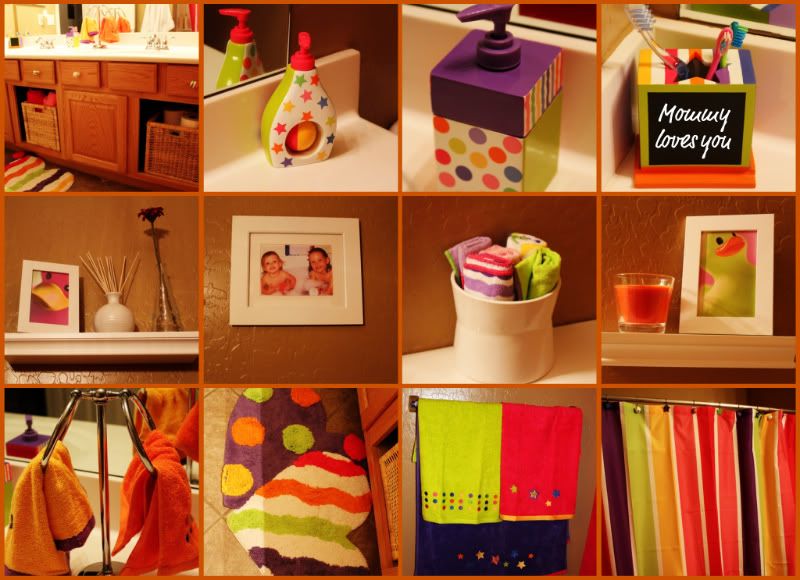 Ella went to school on Friday and made a cute sign for Daddy. It was supposed to say Welcome Home but instead was a big drawing of Daddy. (oh well). We were going to park the car and be waiting for him in the airport with our sign and the camera of course. But two things happened, Jimmy's flight came in a few minutes early AND when we got to the airport I turned around and saw this:
Ahh well. We tried... and failed. :) But we were happy to have Daddy home anyhow!
On Saturday morning my girls got to test drive our new kitchen table over breakfast. They love it!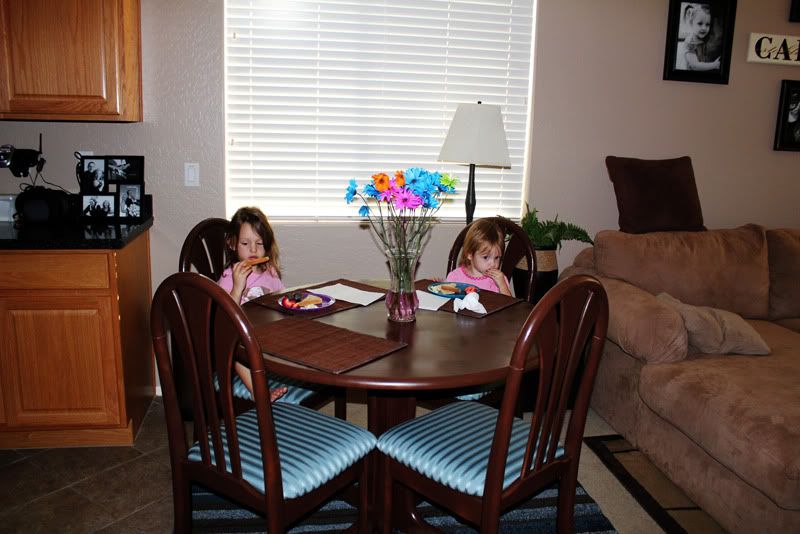 Later on Saturday, Me and The Girls went next door to hang with my neighbor Crissy and her girls Lauren and Rachel (Ella's BFF). Crissy and I had some margaritas while Ry Bunny ran around and played. We let Ella and Rachel in the backyard and when we checked on them later they had used pool water to create water slide. Ella was half-naked and Rachel was sloshing around in wet jeans. But they both had the biggest smiles on their faces.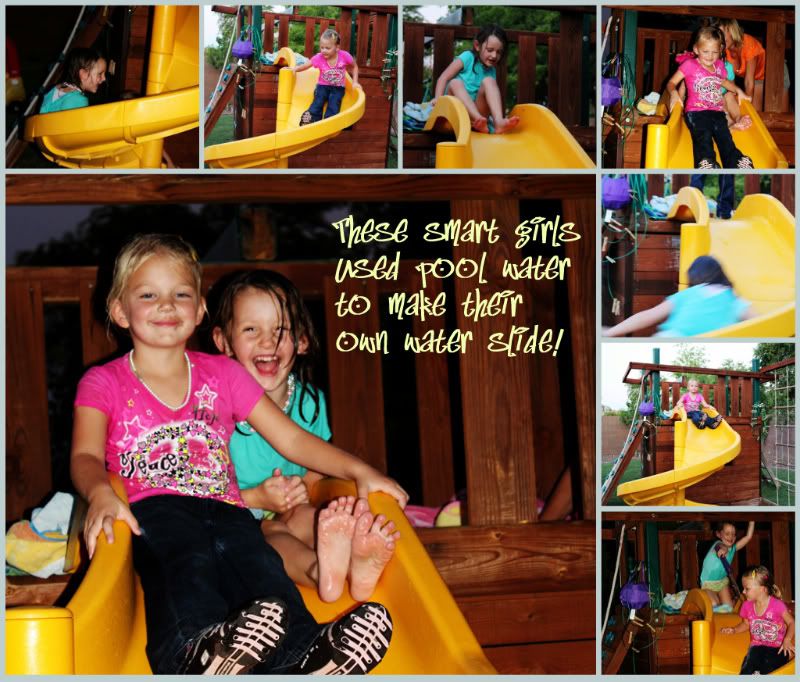 And what was Jimmy doing in Iowa you might ask? Well I did send him off with a camera specifically so he could take photos of the Iowa State Fair. And these are the photos he took. That's it. Nothing else. When I complained he pointed out not everyone is Mamarazzi like me. Whatever... LOL