I swear I was meant to be living a different life. I don't mean a different husband or kids, I just mean a different location and lifestyle. Every single time I step foot in a city like New York or Boston, I become convinced that I was meant to live right there. That my alter ego should've grown up RIGHT in the City where I could be a public transit groupie or walk 60 blocks to get to work. Not sure why this feeling comes over me but it just does. I look around at the buildings, architecture, people, the hustle and bustle, the noise, the chaos, and the LIVING going on all around and I am enraptured. Such was the case again when I took my girls into Boston for the first time.
I didn't appreciate Boston when I lived there. I did spend a lot of time there in my club-hopping-drinking/dancing till 3am days. But how does someone grow up in Boston and only visit the Aquarium maybe once in her lifetime? I had never been to the Boston Common or the Public Gardens. Have never gone splashing around or ice skating on the Frog Pond. Never grabbed a blanket and books and sunscreen and just hung out like they do in Central Park. Never took a swan boat ride, or did the duck tour. Never even took a horse and carriage ride. Now that I am not there it makes me want to embrace the City when I bring my girls back there for visits. Just planning the trip in and getting people excited about going into Boston with us was a chore though... see... when you live there it is not as appealing right from the get go, lol.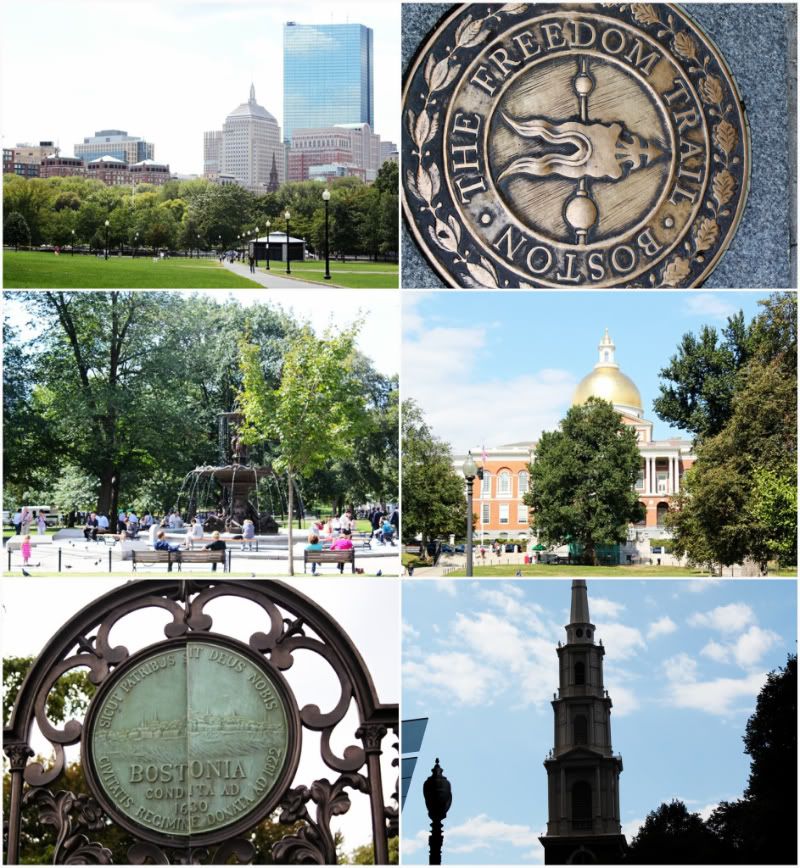 Of course that might be because driving into Boston and parking there can be expensive and a pain the ASS when you are coming from Suburbia. I had no idea we would be $50 out of pocket between tolls and parking before we even stepped out of the car. We had no idea we would be another $60 in the hole before we even stepped in the aquarium. We decided to take the Commuter Train from Framingham into Boston. I knew the girls would love their first ride on a BIG train so we gave it a go. They loved it. They took turns crossing the aisle to sit with Nana and play with her on our commute.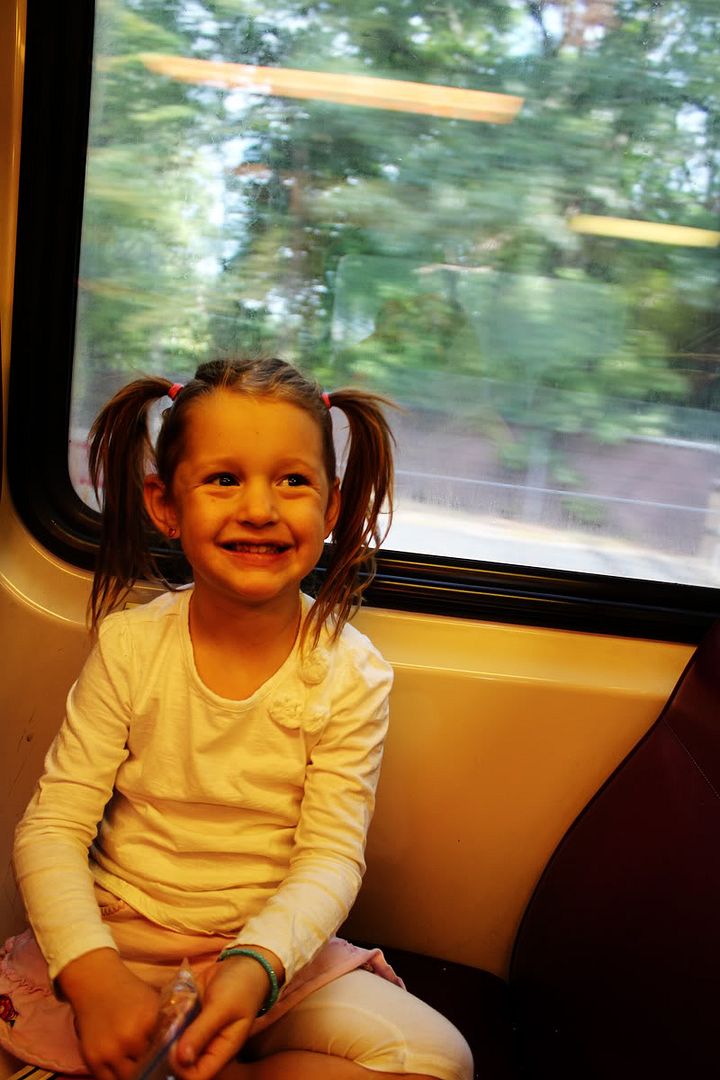 When we arrived in Boston, it was then a series of connections on the "T" short for Transit Line, to get to Haymarket Square. Just check out my babies handling the subway for the first time, like they own the place! Yup I think they are city girls (after their Momma)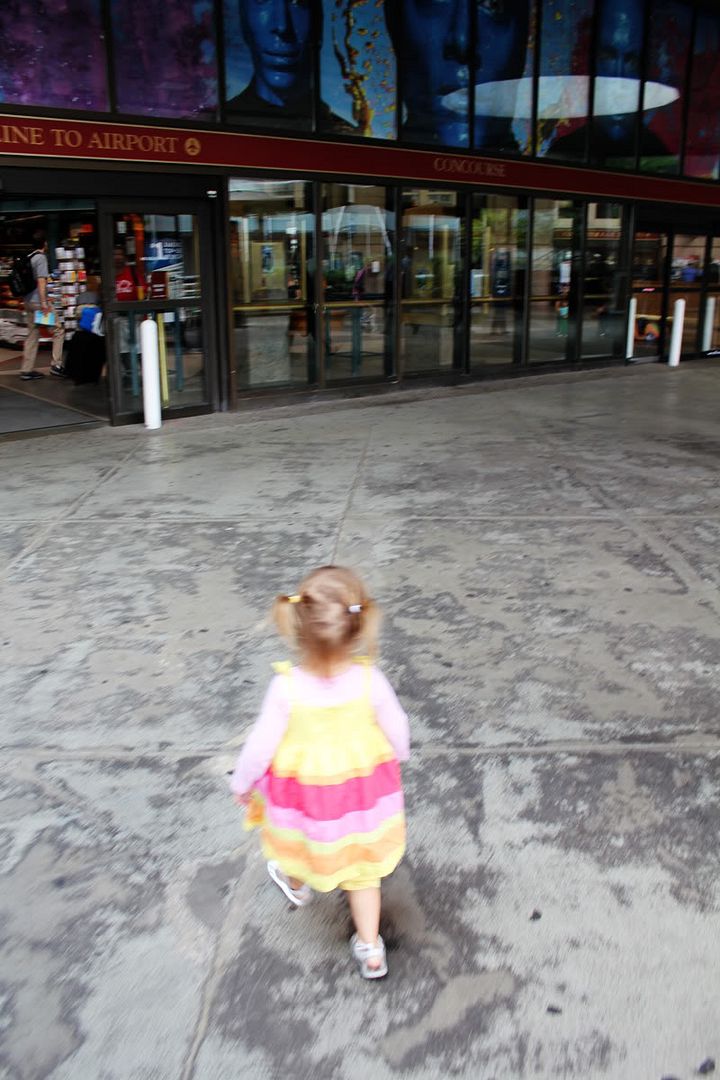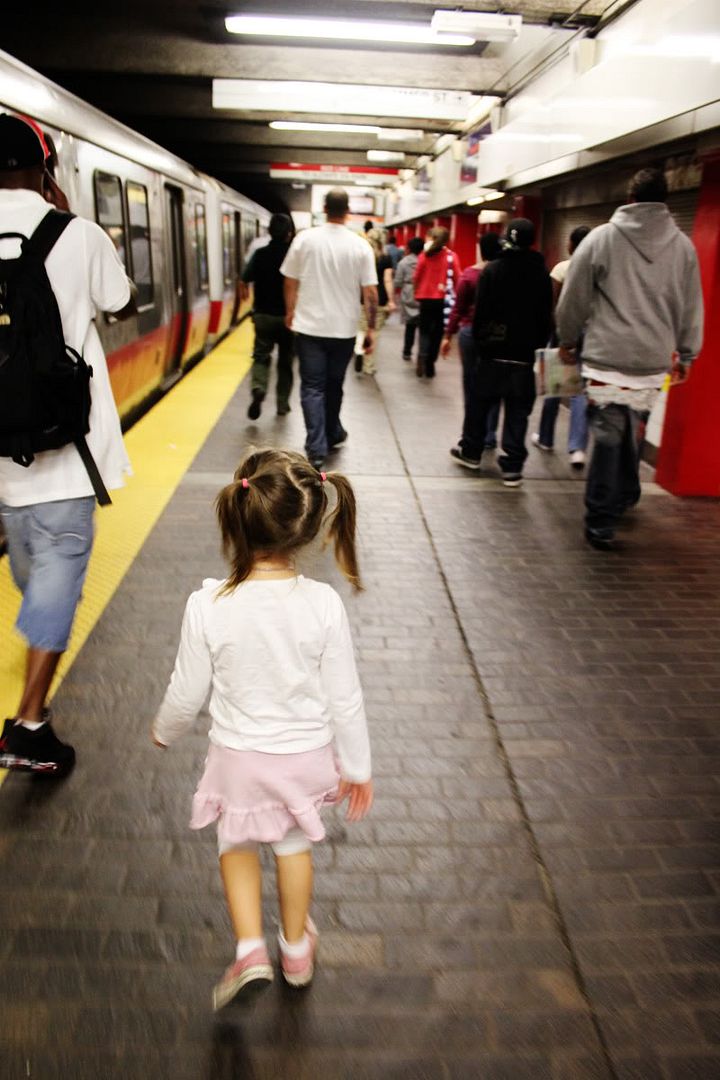 Our first stop was The Holocaust Memorial. This is a beautiful walk through memorial made of all reflective glass with quotations from survivors and political leaders and the numbers of every person who perished in The Holocaust. It is very moving and amazing.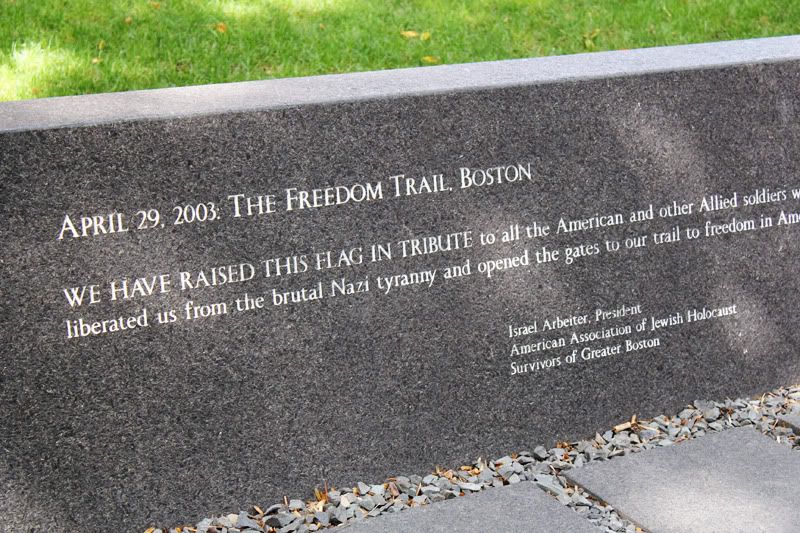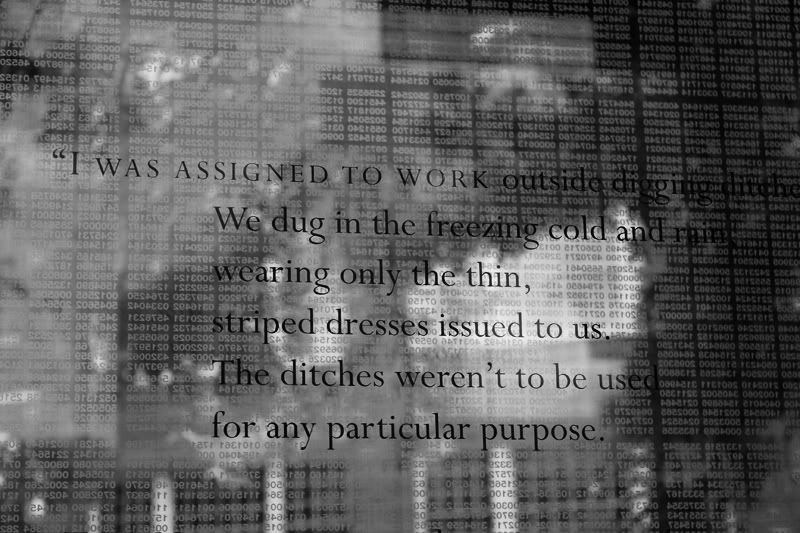 Of course my kids are too young to understand the meaning of such a memorial or its importance, but someday they will. Instead they liked the bronze man on the nearby bench that looked like "a Grandpa". So we said hello. And they wanted to keep movin'. So we did. ;)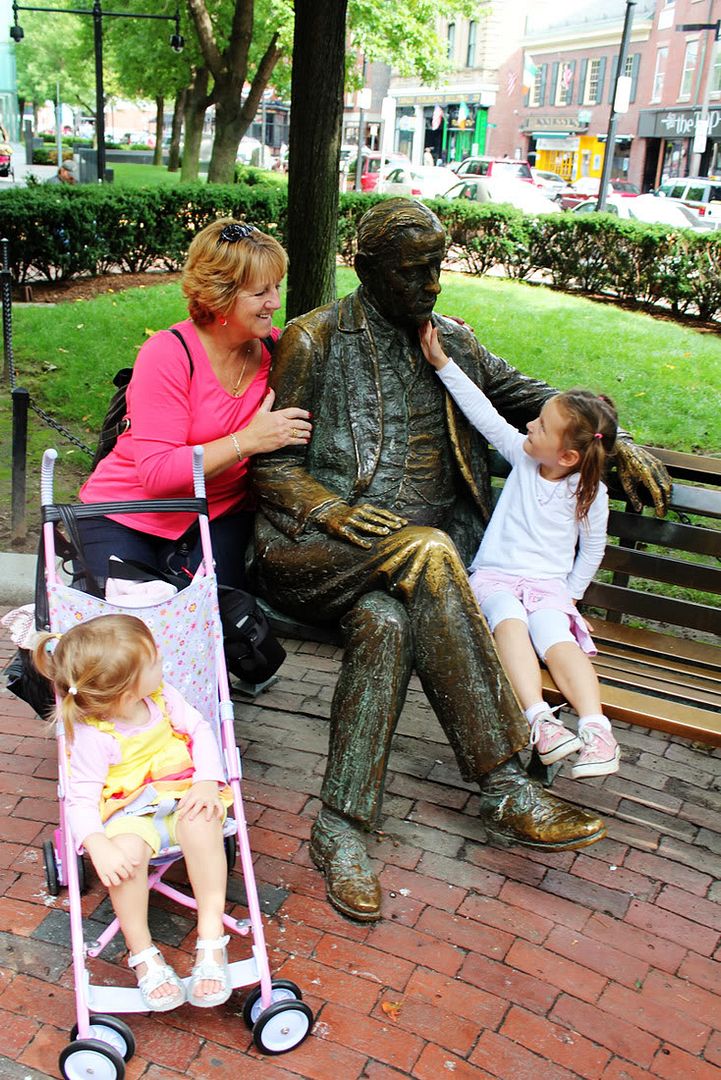 And this is probably one of my favorite photos of the entire day. I just love this idea of her staring out over the City deep in thought. And I just look at her and my heart thinks
Dream big baby; dream as big as you can...
And this makes me want to fast forward 15 years to where I hope she is sitting in a coffee shop much like this one day, with college text books in front of her, staring out at Boston. Yes my dream would be for both my girls to go to college at one of the amazing schools in Boston, where she can be close to Family and get an incredible education!! I guess Mommy can dream big too huh?
Our next stop was the famous Faneuil Hall which also houses Quincy Market. We made souvenir coins and played with toys. We stopped by vendor booths for some shopping. We chased pigeons on brick pavered streets. And we played jumping games with Nana. We were LOVING the fall weather.
I think the City agrees with them don't you?
Next we walked from Faneuil Hall to the Boston Commons. Think Central Park on a much smaller scale. First order of business was to get a photo by the gorgeous fountain that greets you on your arrival.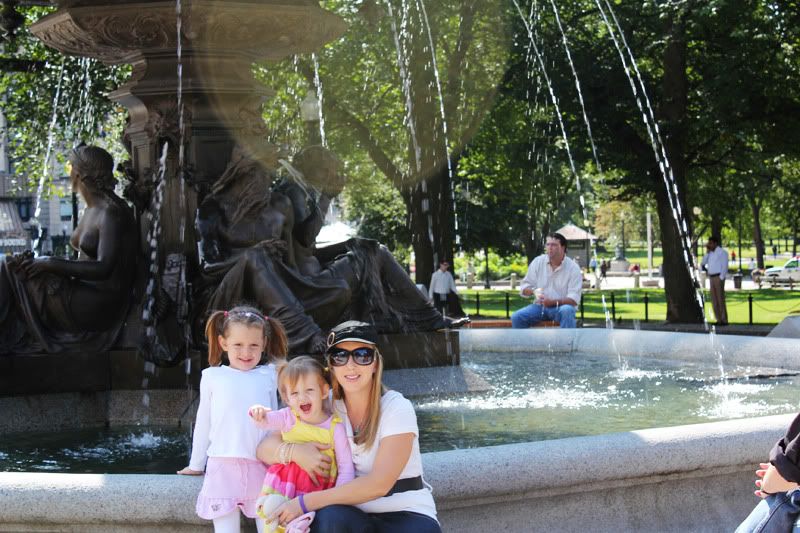 Then it was on to The Frog Pond!! This cool area nestled in the heart of the Commons acts as a splashing/wade pool for kids in the Summer and is frozen over for ice skating during the Winter.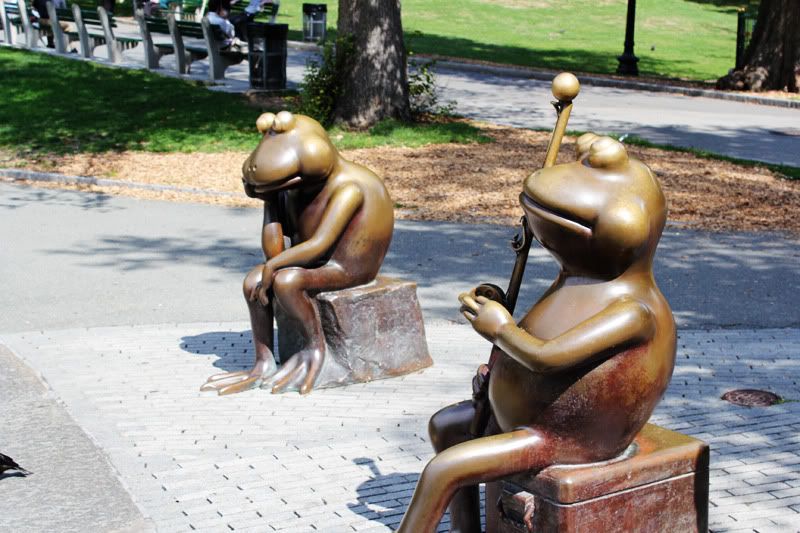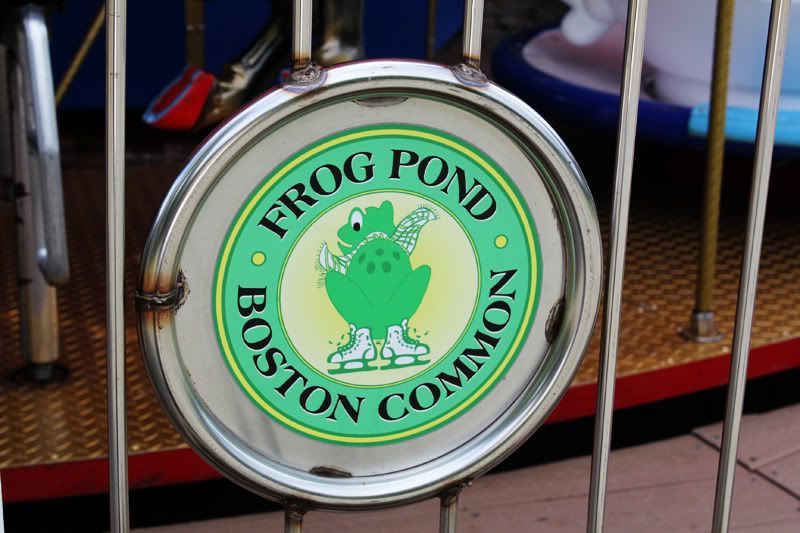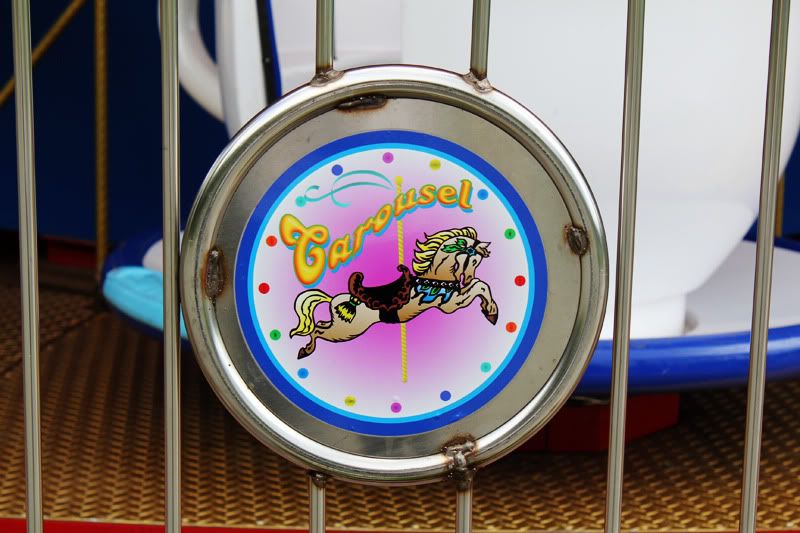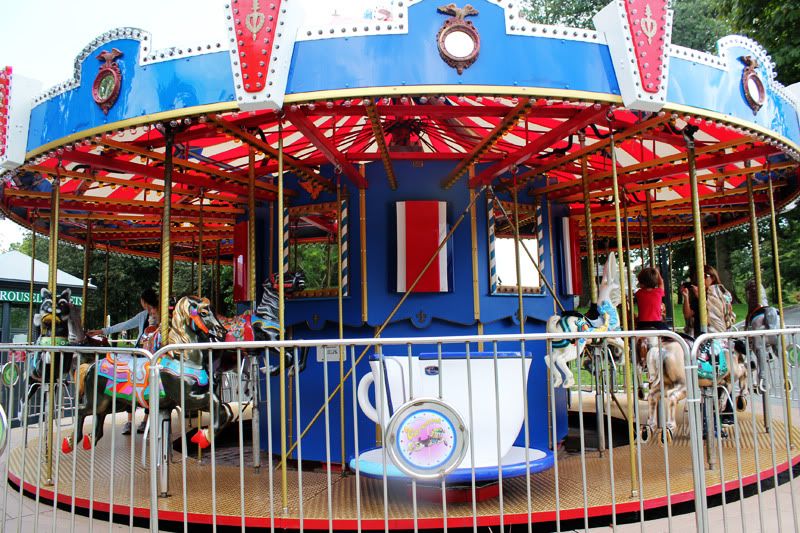 Of course we couldn't resist the Carousel.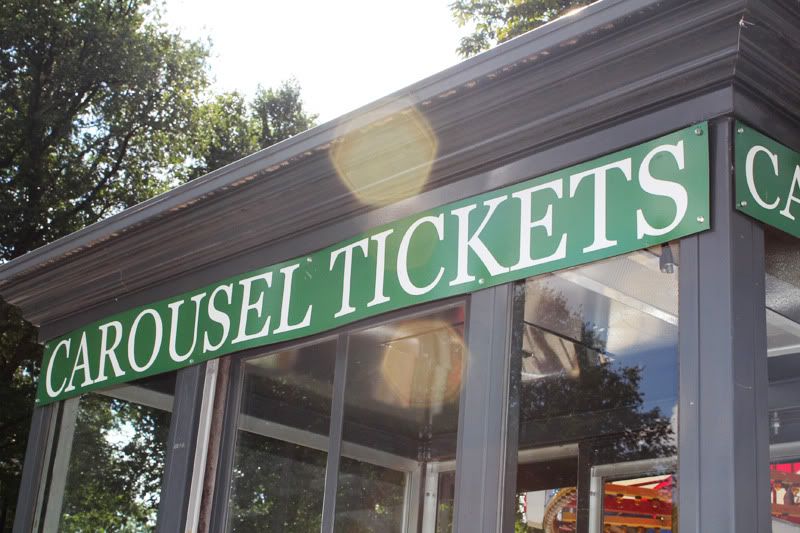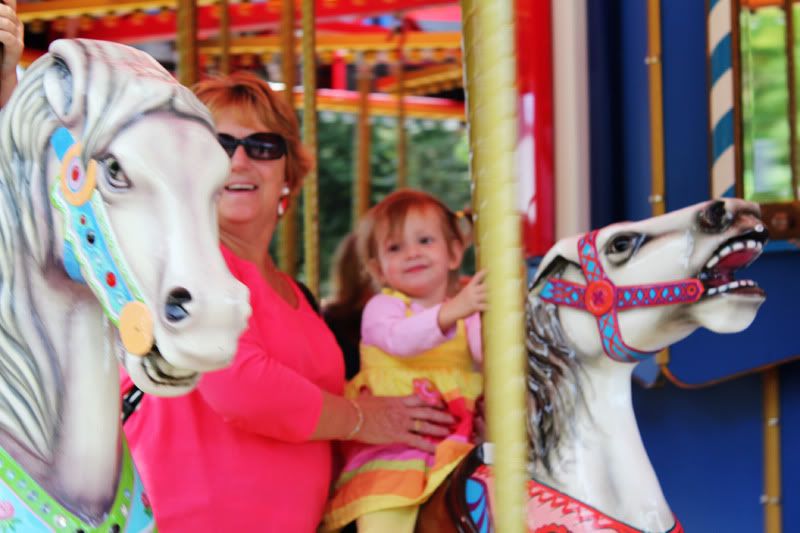 Then we headed over to The Boston Public Gardens, excuse us Mr. Horsey...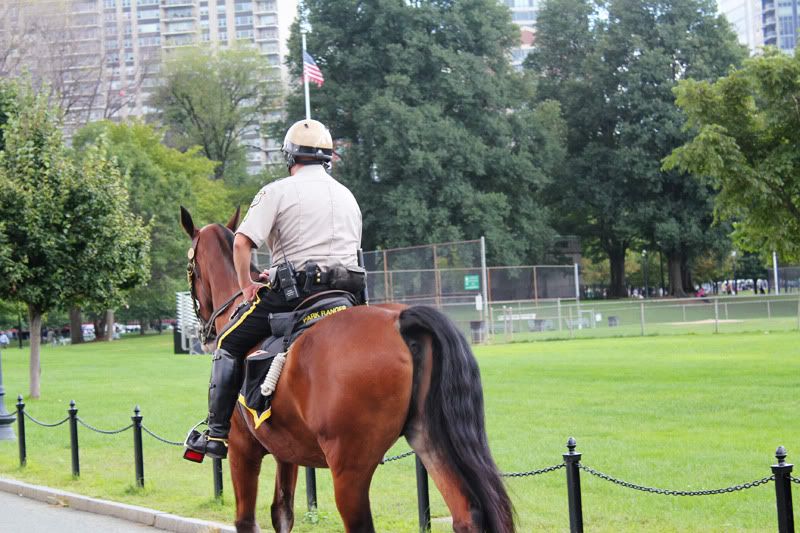 The Public Gardens house beautifully manicured grounds, trails, benches, gorgeous rose bushes and other flowers, and of course the SWAN BOATS!!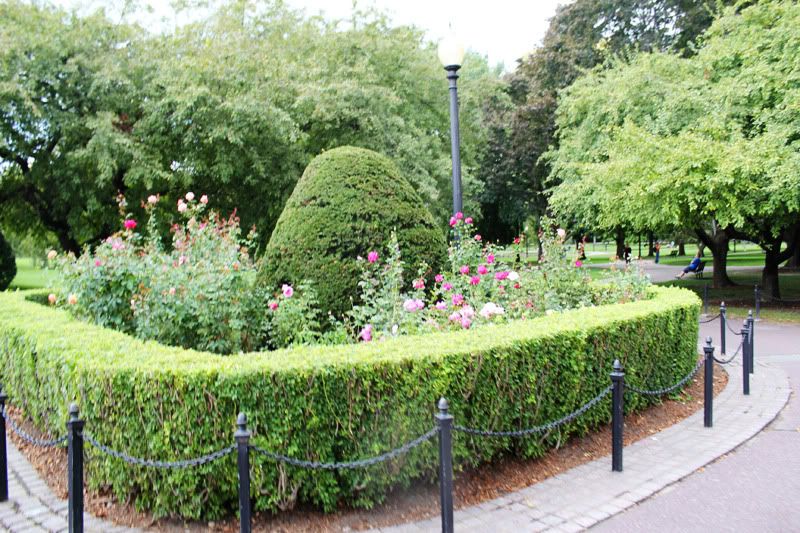 And just as bought our tickets and waited for a few more people to arrive so we had enough for the boat ride, it started to downpour... that's Boston for you. LOL.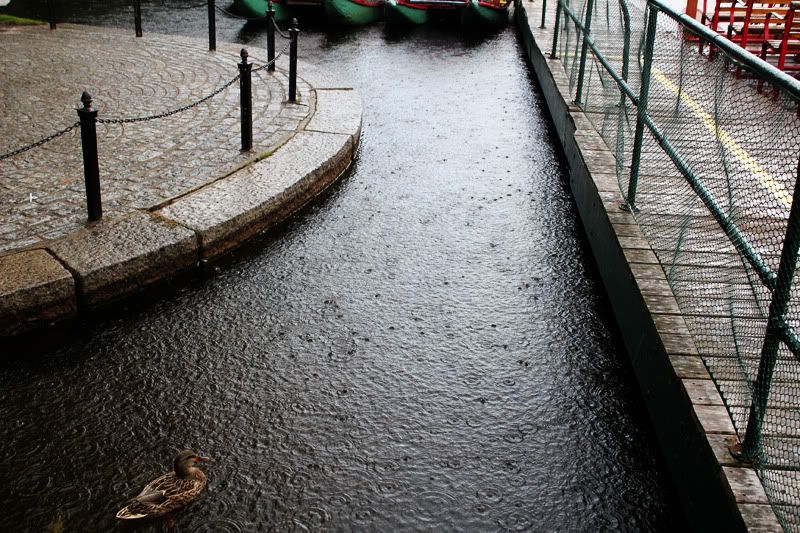 So we did the best we could to entertain ourselves while we waited for the rain to stop.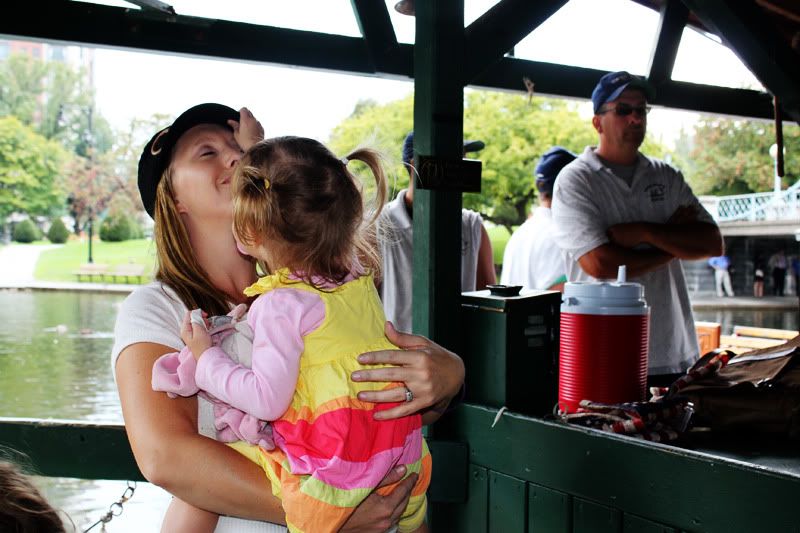 But then everyone left and we would have had to wait there for a lot more people to show up for the boat ride. And after it rained, we would've been waiting there a LONG time. So unfortunately we had to get a refund for another time. :( Good bye Swans...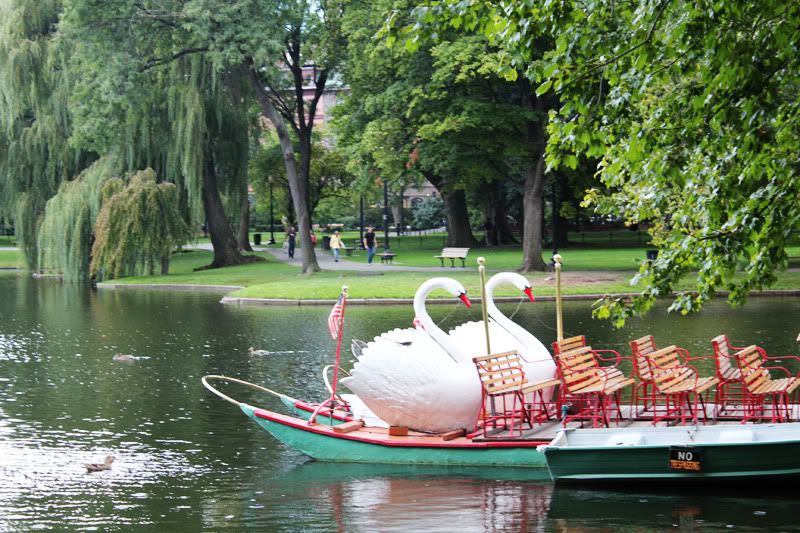 So we headed back over to the Commons, my kiddos never losing the smile on their faces.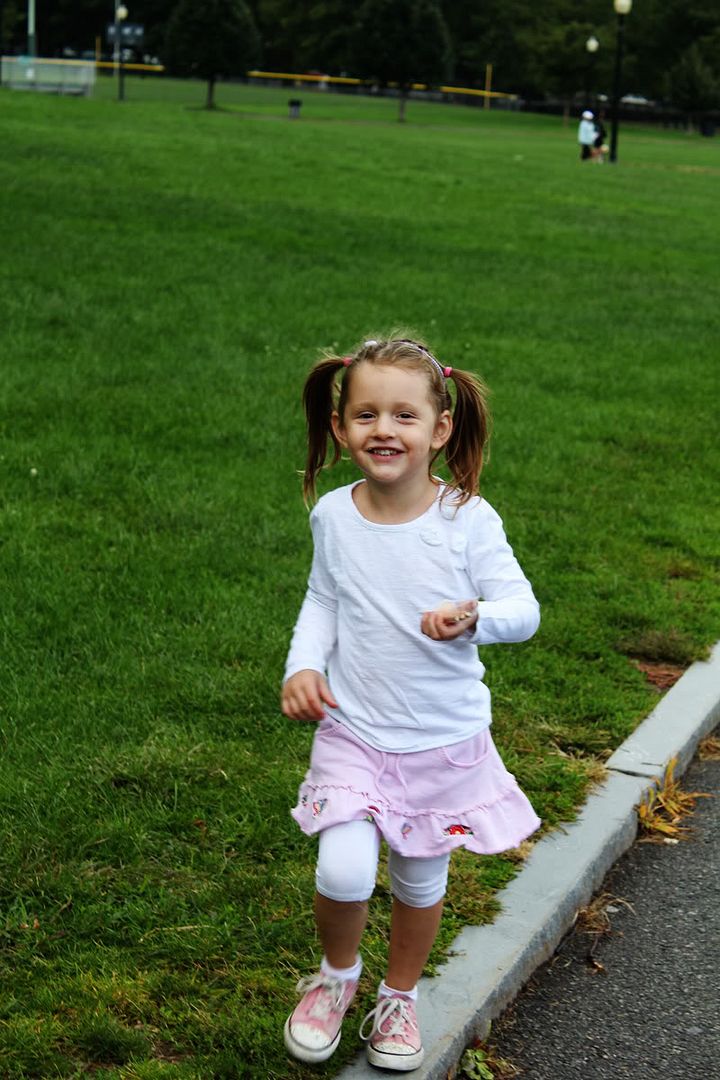 Grandpa picked us up after he got out of one of his meetings nearby and drove us back home. They passed out and slept the entire way home. After reviewing the day and how long it took us to get there and how long we stayed at each place, it kind of seemed like we didn't do a whole lot. But we gave the girls an experience and they had a great time. They don't need to do a whole lot to have a great time, and I enjoyed having some of my own Boston firsts, with them. (pathetic I know.) We'll do better next year! :)